Posts tagged
zhu zhu pets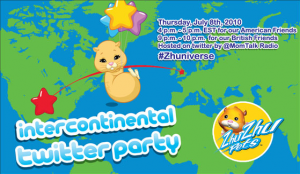 It's coming … on Thursday, July 8! Get ready for the official Across the Zhu-niverse Twitter Party hosted by MomSelect and Zhu Zhu Pets! Twitter parties are a great way to learn about the hottest new trends AND win great prizes! This Twitter Party promises to be special, too — it celebrates the release of the new Kung Zhu
warriors, Wild Bunch
friends, and the ever-expanding Zhu-niverse. Here are the details:
Date: Thursday, July 8th, 2010
Time: 4 p.m. EST (9 p.m. for our British friends!)
Location: MomTV chat room
Twitter Hashtag: #Zhuniverse
Host: @MomTalkRadio (Maria Bailey, Founder of MomSelect and Host of Maria Bailey LIVE on MomTV.com
The host, Maria Bailey, has traveled all the way to the United Kingdom and she's brought some Zhu Zhu friends along with her! Together, they'll be broadcasting live and engaging with Moms and kids around the globe. You're going to want to be a part of this interactive chat room* as fans from across the Zhu-niverse share what makes Zhu Zhu Pets so special to them.
As usual, there will be lots of laughter, ideas and of course- prizes! Get a head start on the global giveaways by entering to win the pre-party prize:
Be sure to follow @MomTalkRadio, @ResourcefulMom, @Zhuniverse and @MomSelectAmy throughout the evening for updates, prize information and contest details.
Are you new to Twitter Parties? Check out this website to learn more so you'll be ready to participate the day of the party!
Have fun and good luck!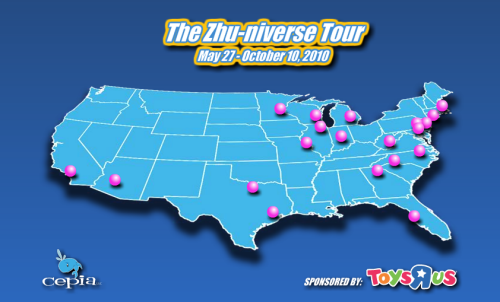 Are you ready for this summer's Zhu-niverse Tour? If you're lucky enough to live near one of the 20 tour stops, it's your chance to live like a Kung Zhu Pet for the day (or like a regular Zhu Zhu Pet). Pretend to be a Ninja Warrior like Drayko or a Special Forces soldier like Stonewall. Test your skills on the life-size ninja and special forces training grounds obstacle course. If you aren't up for battle-training, there's also an option to run through a life-size habitrail like Mr. Squiggles. The choice is up to you!
The Zhu-niverse Tour runs May 27 through October 10, 2010. Stops include various summer festivals and select Toys"R"Us locations (Toys"R"Us is the official sponsor).
May 27-31: St. Louis
June 3-6: Minneapolis
June 10-13: Indianapolis
June 16-20: Detroit
June 25-28: Milwaukee
June 30- July 4: Chicago
July 8-11: Buffalo, N.Y.
July 14-18: Boston
July 21-25: Trenton, N.J.
July 28-August 1: Philadelphia
August 4-8: Baltimore
August 11-15: Charleston, W.Va.
August 18-22: Raleigh, N.C.
August 25-29: Charlotte, N.C.
September 3-5: Tampa, Fla.
September 8-12: Atlanta
September 16-19: Dallas
September 22-26: Houston
October 1-3: Santa Barbara, Calif.
October 6-10: Phoenix
Check out the official Zhu-niverse website for more information on Zhu-niverse Tour dates and activities.