Posts tagged
Kung Zhu 101
The Battle Arena is a must-have accessory for Kung Zhu Pets. If your Kung Zhu hamsters are not contained when they are in battle, they will wander all over the place and never run into each other. For optimum fighting conditions, you need two (or more) hamsters in an enclosed area. The Battle Arena is the perfect venue for watching your warrior hamsters go head-to-head in a knock-down, drag-out fight.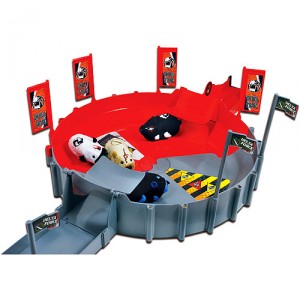 The Battle Arena
has two sides marked with the colors and flags of each group's allegiance: red for Ninjas and gray for Special Forces. As a Kung Zhu Pet approaches the Battle Arena, it reads the battle code on the short entrance tunnel-piece (included) leading to the Battle Arena door. The hamster powers up into Battle Mode and pauses in the tunnel-piece for up to one minute, giving you ample time to apply the Battle Armor if you wish to do so. When your Kung Zhu Pet is ready to enter the Arena, press the button on its back (under the symbol) to send it charging through the door into battle. Pets will battle for up to 3 minutes. The first pet to tip loses the battle and gives up its Armor Token to the victor.
The Battle Arena includes the eight flags shown above — four red Ninja flags and four gray Special Forces flags. You may arrange the flags however you would like on the entrance tunnels and on the Arena walls.
For the ultimate fighting experience, you can also add the Missile Attack Tower
and the Dragon Hammer
(sold separately) to the Battle Arena. These two accessories can be attached to the side wall or they can be mounted on their bases and used as stand-alone weapons.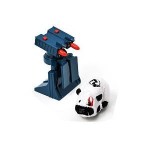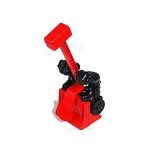 The Missile Attack Tower
(above-left) contains two spring-loaded missiles. When a Kung Zhu Pet runs into the target plates (the rectangular pieces) on the front of the Missile Attack Tower, the missiles will fire. You can also manually fire missiles by pressing the trigger releases on the top of the tower.
The Dragon Hammer
(above-right) will fall and smash a Kung Zhu Pet when the pet runs into the target plate on the front (circular target). You can also manually release the hammer head by pressing on the target plate; there is no separate trigger mechanism for the hammer head.