Posts tagged
deal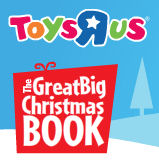 Get ready for every kid's most anticipated release of the year:  The Great Big Christmas Book from Toys"R"Us® will arrive in homes and newspapers nationwide this weekend.  It's overflowing with 80 pages of toys, games, bikes, electronics and more. The incredible deals will only be available at Toys"R"Us stores from Sunday, October 31 through Wednesday, November 24. This year's Big Book includes more than $5,600 in savings – more than any other year – and more than 50 free gifts-with-purchase, along with hundreds of amazing discounts.
Shoppers interested in accessing the deals, discounts and toys available in The Great Big Christmas Book while on-the-go will find a variety of ways to view the catalog online and on mobile devices, including:
On the Web: The entire catalog can be found online at Toysrus.com/ChristmasBook beginning Sunday, October 31. Shoppers can also search for products and deals by brand, age and category, whether looking for special sales on dolls, games, action figures or any other item. Toysrus.com offers a version that customers can see page-by-page, as if they were holding the book in their hands.
On Facebook

(Preview available NOW!)

: Members of the official Toys"R"Us Facebook fan page can find an exclusive preview of The Great Big Christmas Book available now at Facebook.com/Toysrus. Additionally, fans can choose to "like" items featured within the catalog's pages or share a link to the items with their friends.
On iPad: Apple iPad owners can download a complimentary App that includes two different views of the catalog – one for kids and one for adults. Children can browse the pages of The Great Big Christmas Book, without prices, and drag items they want to receive into a "gift box" to create their "must-have" list for parents or Santa. Adults can view their child's list, including price information, edit the toys their children add and share it with family and friends through e-mail, Facebook, SMS and the Toys"R"Us Wish List. Customers can visit Toysrus.com/ChristmasBook to find The Great Big Christmas Book iPad App beginning in November.
The Great Big Christmas Book features spectacular savings on Kung Zhu Pets merchandise:
Take 30% off any Kung Zhu purchase of $75 or more. The starter set listed above would be eligible for the 30% discount, making the final price for the Kung Zhu Battle Arena Starter Set $55.99.