Across the Zhu-niverse Twitter Party! Win Prizes!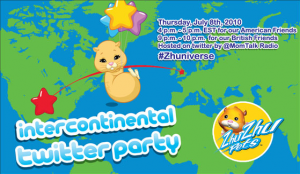 It's coming … on Thursday, July 8! Get ready for the official Across the Zhu-niverse Twitter Party hosted by MomSelect and Zhu Zhu Pets! Twitter parties are a great way to learn about the hottest new trends AND win great prizes! This Twitter Party promises to be special, too — it celebrates the release of the new Kung Zhu
warriors, Wild Bunch
friends, and the ever-expanding Zhu-niverse. Here are the details:
Date: Thursday, July 8th, 2010
Time: 4 p.m. EST (9 p.m. for our British friends!)
Location: MomTV chat room
Twitter Hashtag: #Zhuniverse
Host: @MomTalkRadio (Maria Bailey, Founder of MomSelect and Host of Maria Bailey LIVE on MomTV.com
The host, Maria Bailey, has traveled all the way to the United Kingdom and she's brought some Zhu Zhu friends along with her! Together, they'll be broadcasting live and engaging with Moms and kids around the globe. You're going to want to be a part of this interactive chat room* as fans from across the Zhu-niverse share what makes Zhu Zhu Pets so special to them.
As usual, there will be lots of laughter, ideas and of course- prizes! Get a head start on the global giveaways by entering to win the pre-party prize:
Be sure to follow @MomTalkRadio, @ResourcefulMom, @Zhuniverse and @MomSelectAmy throughout the evening for updates, prize information and contest details.
Are you new to Twitter Parties? Check out this website to learn more so you'll be ready to participate the day of the party!
Have fun and good luck!
about 7 years ago - 3 comments
Are you the ultimate Kung Zhu collector? Are Kung Zhus taking over every room in your house? No collection is complete without the Kung Zhu Fortress Collector Case. It features storage for up to 12 of your favorite Kung Zhu Pets. The case features an easy zip closure with a top