The Zhu-niverse Tour Summer 2010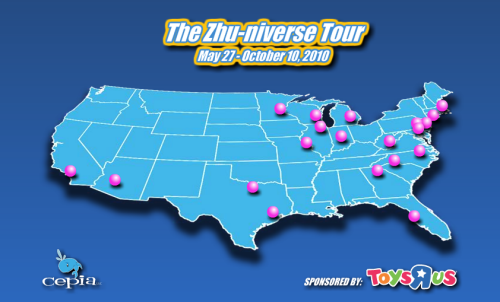 Are you ready for this summer's Zhu-niverse Tour? If you're lucky enough to live near one of the 20 tour stops, it's your chance to live like a Kung Zhu Pet for the day (or like a regular Zhu Zhu Pet). Pretend to be a Ninja Warrior like Drayko or a Special Forces soldier like Stonewall. Test your skills on the life-size ninja and special forces training grounds obstacle course. If you aren't up for battle-training, there's also an option to run through a life-size habitrail like Mr. Squiggles. The choice is up to you!
The Zhu-niverse Tour runs May 27 through October 10, 2010. Stops include various summer festivals and select Toys"R"Us locations (Toys"R"Us is the official sponsor).
May 27-31: St. Louis
June 3-6: Minneapolis
June 10-13: Indianapolis
June 16-20: Detroit
June 25-28: Milwaukee
June 30- July 4: Chicago
July 8-11: Buffalo, N.Y.
July 14-18: Boston
July 21-25: Trenton, N.J.
July 28-August 1: Philadelphia
August 4-8: Baltimore
August 11-15: Charleston, W.Va.
August 18-22: Raleigh, N.C.
August 25-29: Charlotte, N.C.
September 3-5: Tampa, Fla.
September 8-12: Atlanta
September 16-19: Dallas
September 22-26: Houston
October 1-3: Santa Barbara, Calif.
October 6-10: Phoenix
Check out the official Zhu-niverse website for more information on Zhu-niverse Tour dates and activities.
about 7 years ago - 3 comments
Are you the ultimate Kung Zhu collector? Are Kung Zhus taking over every room in your house? No collection is complete without the Kung Zhu Fortress Collector Case. It features storage for up to 12 of your favorite Kung Zhu Pets. The case features an easy zip closure with a top