KUNG ZHU 101: Battle Vehicles
There are four different battle vehicles (sold separately) available for use with your Kung Zhu Pets. Battle vehicles are great for fights outside of the Battle Arena, and they work with any Kung Zhu (or Zhu Zhu) hamster.
Special Forces vehicles include (on left, from top to bottom) the Rhino Tank
and Buzzsaw Tank.
Ninja Vehicles include (on right, from top to bottom) the Samuri Scorpion
and Spider Skull.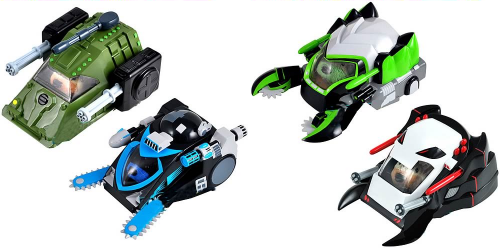 The Battle Vehicle is powered by the Kung Zhu Pet. Your Kung Zhu Pet can run into the vehicle by itself and begin operating the vehicle, or you may place the hamster in the vehicle, making sure that the guide post on the bottom of the pet lines up with the hole in the bottom of the vehicle dash plate. Press the button on the Kung Zhu Pet's back to have it begin operating the vehicle.
Battle Vehicles all operate in a similar fashion, but they each have distinguishing characteristics:
Rhino Tank is equipped with turning Gatling guns and firing missiles
Buzzsaw Tank has sawing buzzsaws, firing missiles, and turning Gatling guns
Samurai Scorpion has firing missiles and pinching scorpion mandibles equipped with rotating saws
Spider Skull has moving spider leg mandibles, firing missiles, and turning Gatling guns
The Battle Vehicles are too large to fit in the Kung Zhu playsets or Battle Arena. Like the Kung Zhu Pets themselves, they work best on smooth, hard, even surfaces (no carpet!).
about 7 years ago - 3 comments
Are you the ultimate Kung Zhu collector? Are Kung Zhus taking over every room in your house? No collection is complete without the Kung Zhu Fortress Collector Case. It features storage for up to 12 of your favorite Kung Zhu Pets. The case features an easy zip closure with a top