Where to Win Kung Zhu Pets: Giveaways Across the Blogosphere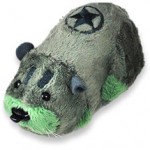 Would you like to score some Kung Zhu Pets merchandise but don't want to ante up the money? Try entering blog giveaway contests. Manufacturers love to hand out a few samples for bloggers to review and giveaway. Considering that usually only a couple of hundred people (or even fewer) enter these contests, your odds of winning can be pretty good. Here's a list of the current Kung Zhu giveaways from across the blogosphere along with the contest end dates:


Newest Contests:
Recently Closed Contests:
No comments yet.
No trackbacks yet.
about 7 years ago - 3 comments
Are you the ultimate Kung Zhu collector? Are Kung Zhus taking over every room in your house? No collection is complete without the Kung Zhu Fortress Collector Case. It features storage for up to 12 of your favorite Kung Zhu Pets. The case features an easy zip closure with a top