KUNG ZHU 101: The Battle Hamsters
The new Kung Zhu lineup consists of two opposing groups of battle hamsters — Ninja Warriors and Special Forces.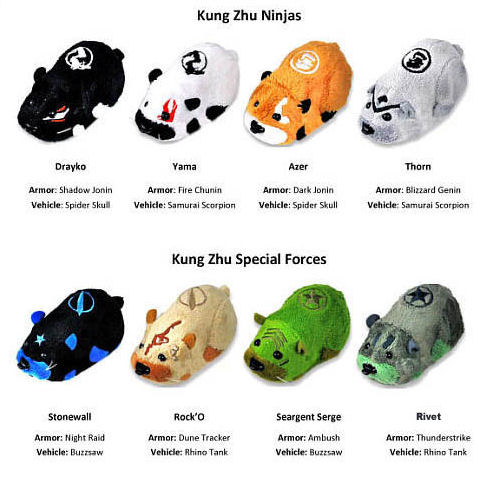 Each group is also divided into two clans. Ninja Warriors include the Dragon Clan and the Skull Tribe. Special Forces include Delta Force and Rangers. Each hamster's allegiance is shown in the symbol on its back.
Delta Force — symbol: star

Rivet: the leader of the Special Forces is a master of demolition and loves a good explosion
Sergeant Serge: has a heart of gold and wants nothing more than for everyone to have a great day

Rangers — symbol: comet

Rock-O: has the biggest brain of the bunch and manages technology and communication
Stonewall: loud, crazy and is always ready for a fight

Dragon Clan — symbol: dragon

Drayko: a fast learner who will stop at nothing to become the best
Yama: best friend to Drayko, he is only a student, but is still feared as the strongest of the Ninja Warriors

Skull Tribe (the bad guys) — symbol: hieroglyph

Azer: the older brother of Drayko, he has a grudge to settle against Rivet
Thorn: the true definition of zhu-vil, he is rough, tough and not afraid to cheat


Source: PRNewswire
Photo credits: Kung Zhu Pets website, Cepia
No trackbacks yet.
about 7 years ago - 3 comments
Are you the ultimate Kung Zhu collector? Are Kung Zhus taking over every room in your house? No collection is complete without the Kung Zhu Fortress Collector Case. It features storage for up to 12 of your favorite Kung Zhu Pets. The case features an easy zip closure with a top