Archive for
August, 2010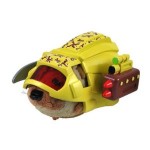 Time to Play Magazine, the online toy review, has ranked Kung Zhu Pets as the #2 toy on its editors' picks of boys toys for 2010. Recommended for boys ages 6 and up, Kung Zhu is a "fun and comprehensive new line that engages boys on many imaginative levels and delivers consistently strong play value." See the Time to Play Magazine article for more of their thoughts on "the next big thing in the world of Zhu Zhu Pets" including a video review.
There are four different battle vehicles (sold separately) available for use with your Kung Zhu Pets. Battle vehicles are great for fights outside of the Battle Arena, and they work with any Kung Zhu (or Zhu Zhu) hamster.
Special Forces vehicles include (on left, from top to bottom) the Rhino Tank
and Buzzsaw Tank.
Ninja Vehicles include (on right, from top to bottom) the Samuri Scorpion
and Spider Skull.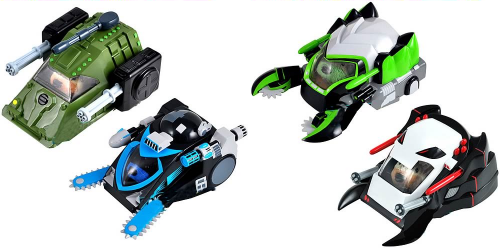 The Battle Vehicle is powered by the Kung Zhu Pet. Your Kung Zhu Pet can run into the vehicle by itself and begin operating the vehicle, or you may place the hamster in the vehicle, making sure that the guide post on the bottom of the pet lines up with the hole in the bottom of the vehicle dash plate. Press the button on the Kung Zhu Pet's back to have it begin operating the vehicle.
Battle Vehicles all operate in a similar fashion, but they each have distinguishing characteristics:
Rhino Tank is equipped with turning Gatling guns and firing missiles
Buzzsaw Tank has sawing buzzsaws, firing missiles, and turning Gatling guns
Samurai Scorpion has firing missiles and pinching scorpion mandibles equipped with rotating saws
Spider Skull has moving spider leg mandibles, firing missiles, and turning Gatling guns
The Battle Vehicles are too large to fit in the Kung Zhu playsets or Battle Arena. Like the Kung Zhu Pets themselves, they work best on smooth, hard, even surfaces (no carpet!).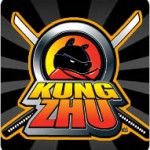 Last month I let you know about the new Kung Zhu game for Nintendo DS that's planned for release this fall (October 19, 2010). Today, Activision made the official announcement concerning the game and released a few screenshots.
Zhu Zhu Pets: Kung Zhu will feature all the familiar hamsters from both the Special Forces and Ninja Warriors tribes. You'll find soldiers Stonewall, Sergeant Serge, Rock'O and Rivet and ninjas Yama, Azer, Drayko and Thorn. There may even be a few new hamsters from different tribes, too! You'll be able to outfit your hamsters with battle gear and unleash them to fight in 35 levels with authentic sounds and motions.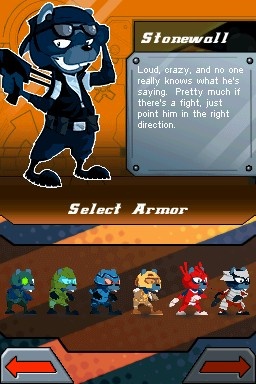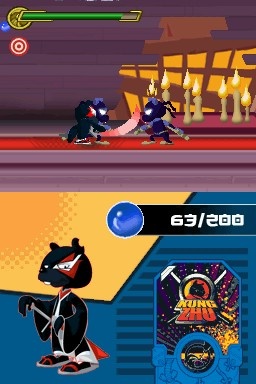 Screenshot credits: Gamespot.com
If you're lucky enough to live near one of the Zhu-niverse tour stops, you may be able to check out the game before the slated October release date. Fingers crossed!
Zhu Zhu Pets: Kung Zhu will retail for $29.99. The Collector's Edition release including Tull, an exclusive, rough-and-tumble Kung Zhu hamster in a never-seen-before color scheme, will be available for $34.99. The basic edition (no collectible pet) is available for pre-order now at Newegg.com
for only $27.99. Zhu Zhu Pets Kung Zhu with Gift
, the Collector's Edition including exclusive Kung Zhu hamster, Tull, is available for pre-order from Gamestop.com for $34.99.


Source: Gamespot.com